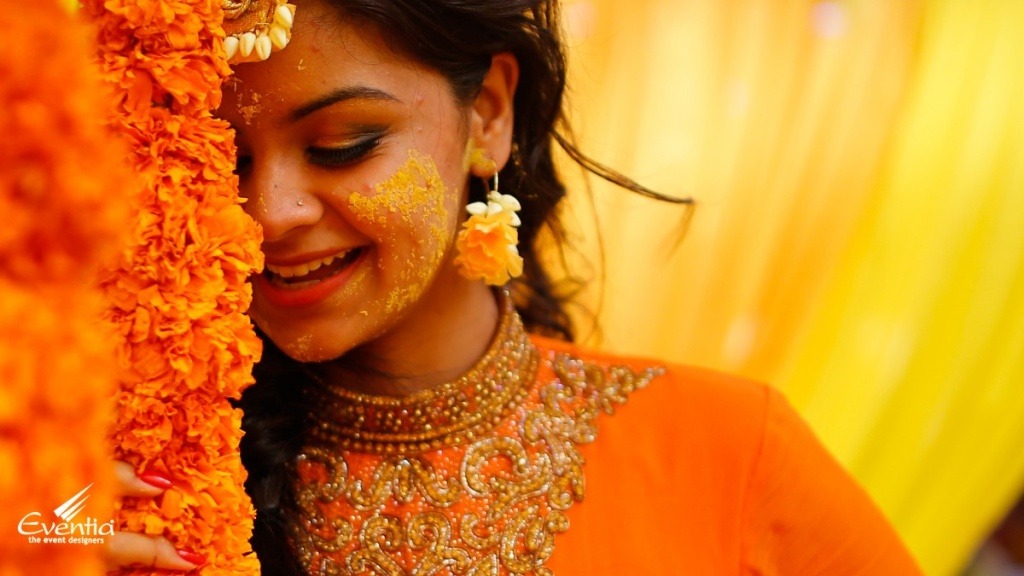 Haldi weddings decorations in Kerala
A touch of yellow to bring people together
Yellows to keep the buri nazar away! That's right. We're talking about Haldi Wedding, a pre-wedding tradition in almost all Hindu weddings. We've seen it all the movies – richly decorated homes or wedding halls or even one's patio, close-knit families and friends, haldi (turmeric paste) in their hands ready to (literally) attack the centre of attraction – the bride! Haldi wedding has become an unavoidable part of the wedding gala. In North India, both the bride and groom organize haldi wedding at their respectable homes, but in Kerala, the grooms are set free!
Turmeric is a cleanser for the skin, hence the bride actually gets an organic wash for a glowing and blemish-free skin FTW! The haldi paste is usually made by grinding organic turmeric with sandalwood powder and milk or with rose water.The refreshing smell of the bright yellow soft paste is to die for! The antiseptic (also anti-bacterial and anti-inflammatory) mix is applied on five places by their dear and near ones in this order – feet, knees, arms, hands and face. The haldi wedding procedure is not just colourful, it is fun and frolic, one of the most memorable part of the wedding ceremony. Turmeric is said to ward-off evil or buri nazar and stand for blessings from the near ones.
It's easy peasy to decorate your homes for haldi wedding. Play with flowers, bouquets, garlands, lights, anything – all you need is to be a bit creative and have a bunch of friends and family to help you out. Or if you're falling out of creativity and wedding ideas, just leave it to us! Thinking what to wear for this extravaganza? Any light Indian attire (that you don't mind not wearing again), light jewellery and eye make-up (your eyes matter!) will do the magic.
You see this tradition being followed not just by the Hindus in Kerala, but also everyone who would like to have fun and have a truck-load of memories for the future. After all, the present Kerala weddings are pretty much all about camaraderie and special moments. Leave it to us for that special touch of auspiciousness during your wedding.